After announcing plans to launch a new privacy coin called GHOST, John McAfee has received numerous accusations of plagiarizing the whitepaper.
The popular cryptocurrency proponent responded today to the emanated controversy, calling it a "storm in a teacup."
GHOST Controversy
As CryptoPotato reported in mid-April, the former anti-virus software tycoon announced the upcoming launch of the new privacy coin GHOST. Outside of the website promising fast, cheap, and entirely anonymous transactions, details regarding the coin were quite limited at the time.
Just recently, however, the team behind the GHOST token published the whitepaper. Almost immediately, though, it began attracting serious waves of controversy.
PIVX, another privacy coin which initially came as a fork of DASH, accused McAfee and his team of plagiarizing the GHOST whitepaper.
PIVX provided several screenshots illustrating the similarities between a 2018 version of their whitepaper with GHOST's current one. PIVX ultimately concluded that "at least 20 of the 26 total pages found in the GHOST whitepaper contain material directly plagiarized from the 2018 PIVX whitepaper."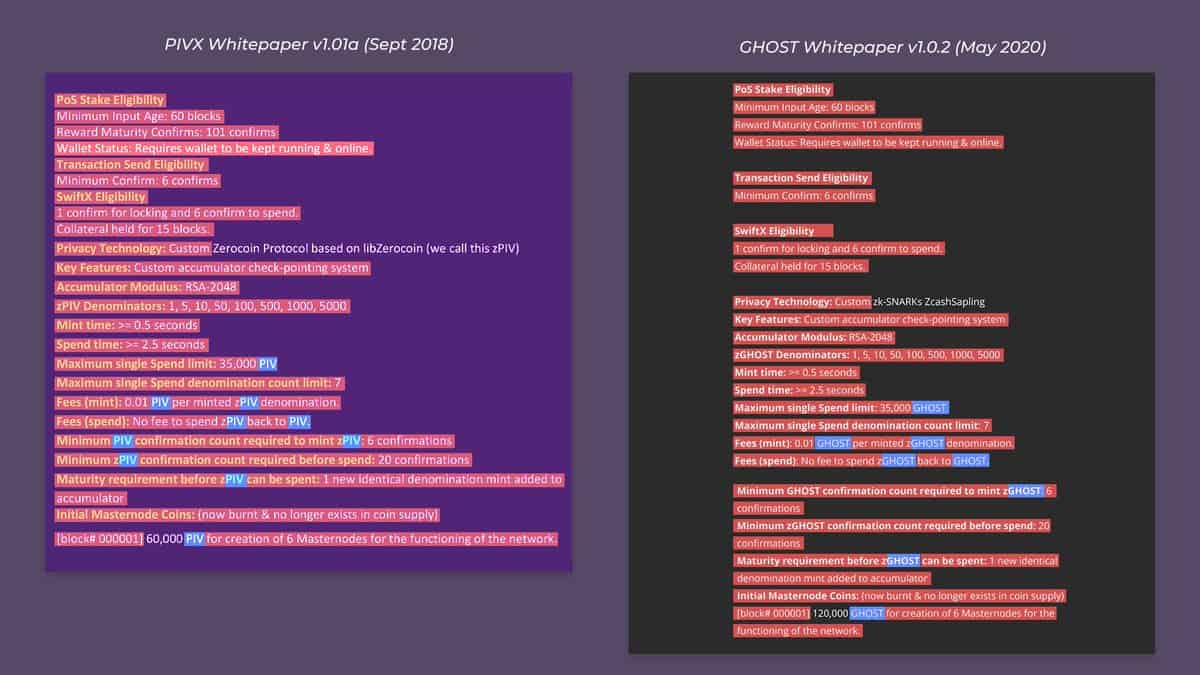 PIVX also said that they are working on a new privacy protocol, Sapling/zk-SNARKs, which is currently being implemented. This could impact the GHOST token if it's, in fact, a fork of PIVX:
"PIVX expects to complete the implementation of the new Sapling/zk-SNARKs privacy protocol in Q4 2020. As such, if GHOST is indeed a fork of PIVX, it will either be waiting for PIVX to complete the privacy code or will use its own solution."
GHOST Team And McAfee Respond
A recent Medium post from the team behind GHOST basically confirmed that the starting codebase of the new privacy coin "is a fork of PIVX." Thus, it's natural that the "technical explanations and processes are, of course, going to be essentially the same."